About Dr. Sonntag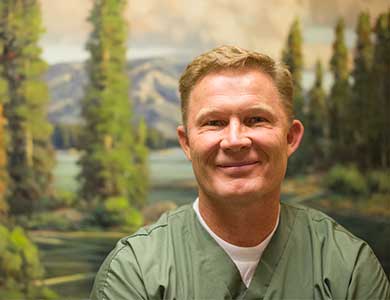 Dr. Keith Sonntag is a native of Utah and earned his undergraduate degree from the University of Utah. He completed Dental School at the University of Washington in Seattle and attend the University of Oklahoma for a certificate residency in the Advance Education In General Dentistry. In 1995 Dr. Sonntag completed his Masters in Science degree and Certificate as a Specialist in Endodontics at the University of North Carolina at Chapel Hill. In North Carolina, Dr. Sonntag completed extensive root end surgical training and finished his research covering the response of teeth to laser cavity preparation.
Dr. Sonntag is a dental specialist in endodontics. This includes root canal therapy, Retreatment of root canals and root end surgery (apicoectomy). In addition Dr. Sonntag treats teeth traumatized with cracks, resorption and teeth that have been knocked out (avulsed) or displaced (luxated).
Dr. Sonntag continues his training in endodontics through his membership in the Utah Dental Association and the American Association of Endodontists.
In his spare time Dr. Sonntag enjoys Sailing, Skiing and backpacking with his wife and three boys.
Please contact us with any questions you might have. Our trained staff will be happy to help you.